*Free Shipping in the USA. For destinations outside the USA, please contact me HERE to determine shipping charge.*
The auditorium body shape is probably the newest body shape for acoustic guitars. The auditorium takes elements that players love from various other shapes and combines them into a single body. The sound will be slightly different than a dreadnought and will scoop some of the mid range but it maintains the full dreadnought sound. It has a skinnier waist, much like a grand concert. This allows the guitar to rest lower on a player's thigh when sitting down and does not put as much strain on the shoulder. It's not hard to see why auditoriums have gained popularity so quickly.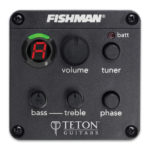 The Fishman ISYS+ works to complement the natural acoustic tone of your Teton guitar when you need to amplify it. This preamp, paired with the Fishman Sonicore pickup, will reproduce all the natural sonic qualities of your already amazing sounding Teton. The ISYS+ has bass and treble controls to help dial in your tone. With the built-in-tuner, you will always sound your best when playing amplified or acoustically.
Body Shape: